2021 - Voyage 2
Little sail trip from Bermeo to Mundaka
Hardly a voyage really because it's only a few miles from Bermeo to Mundaka but it's interesting because Mundaka is an ancient & very tiny little "Puerto" & since there's many like this on the Spanish North Coast it's the reason why I got my current boat. Considering I am 1.93 tall my Anderson 26 at 8 by 2.5 meters and its clever design is about the smallest reasonably liveable sailing boat I could find. The relatively small beam as compared to most boats of the same length allows for parking in the tightest little corner anywhere & the electric lift keel & easily lifted rudder adds some more benefits too.
Mundaka is world famous for it's beautiful and at time huge curling surf but it's also a lovely ancient little port & town with a wealth of history & a relaxed vibe. During the daytime I was alongside there the first "Bonitos del Norte" of the season where landed & there was quite an excited hustle & bustle going on in the little harbour filled with little motor boats which are mostly intended for fishing with lines & rod.
The main reason I called at Mundaka was to get some local info on entering the Urdaibai estuary because next to that famous surf & beach is a unmarked narrow channel with rocks on the starboard side that is deep enough for my boat with keel & rudder up to slip in to this gorgeous "Ria". I was moored in front of the local ferry that takes people through this entrance to the other side of the estuary and got some useful information from its operators & later that evening when the tide was high enough I slipped inside (-: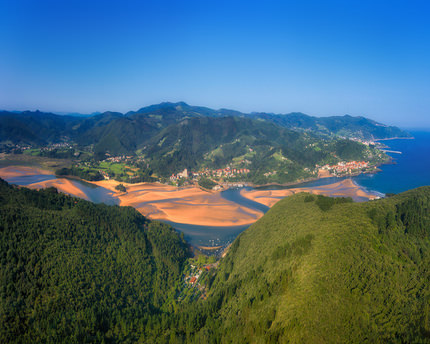 Interestingly, even though there's hundreds of boats moored in Mundaka & Urdaibai the whole area is completely unmarked & the charts are very basic with no depth information for the entrance & estuary itself which probably makes it a pretty much never visited area for foreign vessels.
The same as pretty much anywhere in Europe all the traditional anchorages are now occupied by boats on fixed moorings but this has the advantage that generally there's always an unoccupied mooring buoy to be found and I found a very nice one at Arquetas so at 22:00 I was safely moored and enjoying the new surroundings (-: